from Margaret Rogers,
Hessay Books
Georgette Heyer - Queen of Mystery and Suspense?
Go into any bookshop today and ask for 'Georgette Heyer' and you will almost certainly be directed to 'Historical Fiction' and a long row of her much-loved 'Regency Romances'.
Few people today appreciate that Heyer was also one of the foremost lady crime writers of the Golden Age of the English detective story, taking her place alongside Christie, Sayers, Marsh and Allingham. Over a period of 20 years she produced 12 mystery crime stories, which gained both critical and popular success.
Heyer was encouraged to write crime by her husband, the barrister Ronald Rougier, who helped her to work out the highly ingenious plots, which are usually set in the classic surroundings of a quiet English village or a large country house. The settings and situations may be similar to those favoured by the other lady crime writers - but the plots are enlivened by a typical Heyer touch of comedy and romance.
The first mystery ' Footsteps In The Dark' was written in 1932, and is very much a lighthearted first attempt, set in a haunted house. This was followed in 1933 by the more successful 'Why Shoot A Butler?'and in 1934 by 'The Unfinished Clue' a well-plotted country house story.
Footsteps in the Dark and Why Shoot a Butler?

| | |
| --- | --- |
| | |
By 1935 she had matured her new style in 'Death In The Stocks', which introduced her detectives, Hannasyde and Hemingway to her readers. Dorothy Sayers said in a Sunday Times review that "Miss Heyer's characters and dialogue are an abiding delight to me... I have seldom met people to whom I took so violent a fancy from the word 'Go'".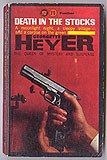 The stories were also a hit in the USA -The New Yorker reviewed 'Envious Casca' of 1941 as 'sharp, clear and witty in the British manner' while The New York Times said 'Rarely have we seen humour and mystery so perfectly blended as they are in this story'.
The last crime story, 'Detection Unlimited', appeared in 1953 and proved that Heyer still deserved her publisher's description as 'Queen of Mystery and Crime'. The Daily Mail review acknowledged that she had claims to be considered 'the wittiest of detective story writers.'
Sales of the crime novels were never as great as the Regency novels for which Heyer is better known, but they have always continued to sell steadily and are still in print today. Although they might not appeal to the readers of Heyer's historical fiction, the crime novels deserve attention from the devotees of classic English crime fiction for their social observation, dialogue, and convincing and intricate, but honest, plots.
To find out more about Georgette Heyer:- www.Georgette-Heyer.com