Ed McBain's 87th Precinct
from Macbuiks
Ed McBain was born Salvatore A. Lombino in New York in 1926 and started writing novels after a period as an enlisted seaman in the navy during the Second World War.
Ed McBain is one of the most illustrious names in crime fiction. In 1998 he was a first non-British author to be awarded the Crime Writers' Association Diamond Dagger Award. He is also a holder of the Mystery Writers of America's coveted Grand Master Award.
Prolific both as Ed McBain and Evan Hunter he is probably best known for his novels written about the 87th Precinct, although he is responsible for another series of crime stories about private eye/attorney 'Matthew Hope', as well as eleven collections of short stories. In addition to these two pseudonyms, Lombino has also written as John Abbott, Curt Cannon, Hunt Collins, Ezra Hanson and Richard Marston. A successful writer for television and cinema whose credits include the screen play for Alfred Hitchcock's 'The Birds', he also wrote a memoir of the time he spent working with Alfred Hitchcock called 'Me and Hitch'.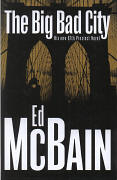 The first 87th Precinct novel 'Cop Hater' was written in 1956 and since then McBain has written fifty more, all set in the fictional city of Isola . It is in 'Cop Hater' that the reader is first introduced to Steve Carella and his first meeting with his future wife Teddy. While there were 16 detectives assigned to the 87th precinct, the reader only gets to know of a chosen few, amongst them Meyer Meyer, Bert Kling and Andy Parker.
Ed Mcbain is able to put flesh on the bones of his characters by detailing their personal problems and their joys, to make them come alive, to make you care what happens to them. Lying in bed reading, you can feel the biting cold of the Isola streets when the detectives are called to the scene of a murder, late at night. At the same time, he keeps up the tension of a criminal investigation with all its inherent dangers.
The full list of all 87th Precinct titles is as follows:
Cop Hater (1956)
The Mugger (1956)
The Pusher (1956)
The Con Man (1957)
Killer's Choice (1957)
Killer's Payoff (1958)
Killer's Wedge (1958)
Lady Killer (1958)
'Till Death (1959)
King's Ransom (1959)
Give the Boys a Great Big Hand (1960)
The Heckler (1960)
See Them Die (1960)
Lady, Lady, I Did It! (1961)
Like Love (1962)
The Empty Hours (1962)
Ten Plus One (1963)
Ax (1964)
He Who Hesitates (1965)
Doll (1965)
Eighty Million Eyes (1966)
Fuzz (1968)
Shotgun (1969)
Jigsaw (1970)
Hail, Hail, the Gang's All Here (1971)
Sadie When She Died (1972)

Let's Hear It for the Deaf Man (1973)
Hail to the Chief (1973)
Bread (1974)
Blood Relatives (1975)
So Long as You Both Shall Live (1976)
Long Time No See (1977)
Calypso (1979)
Ghosts (1980)
Heat (1981)
Ice (1983)
Lightning (1984)
Eight Black Horses (1985)
Poison (1987)
Tricks (1987)
Lullaby (1989)
Vespers (1990)
Widows (1991)
Kiss (1992)
Mischief (1993)
Romance (1995)
Nocturne (1997)
The Big Bad City (1999)
The Last Dance (1999)
Money, Money, Money (2001)
Fat Ollie's Book (2003)
The Frumious Bandersnatch (2004)
Full details about Ed McBain, his pseudonyms and books can be found at the official Ed McBain website