John Strickland Goodall, 1908-1996,
Artist, Illustrator and Gentleman
from Brenda Brown of Brown Studies
I first became enchanted by the pen and ink illustrations of J.S. Goodall in the late 1950's when I discovered the first two books,' Village School' and 'Village Diary' by the fictitious village schoolmistress 'Miss Read'.
His delightful drawings, as well as the author's whimsical and so very astute comments on human nature, made me laugh out loud. They produced over 30 more books together, spanning the decades right until the early 1990's. A perfect partnership, which led me to collect, enjoy and re-read them regularly to this day. And I still laugh out loud!
The third book in this series,' Storm in the Village' was even more attractive. The front cover sported a charming watercolour painting, as have the others in my collection. Almost all were painted by Mr. Goodall and are a constant source of pleasure.
In 1993 I wrote to him, care of the publisher, Michael Joseph, to thank him for the pleasure he'd given me over 30 years. He replied from his home in Wiltshire, not only acknowledging my letter but enclosing a clutch of samples of his work; only a true fan will understand my joy in receiving these tokens and the warmth of his personality that shone through his very thoughtful and personal letter.
The illustrations for the Miss Read books were only a very small part of his output. He illustrated books by many other people and recently the Radio Times alone found 350 of his drawings in their archives. In the 1930-1950's he worked for a range of magazines and provided advertisements for companies such as Shell and the Midland Bank. Each, to me is a small masterpiece in its own right, with his style and sense of humour so strongly in evidence.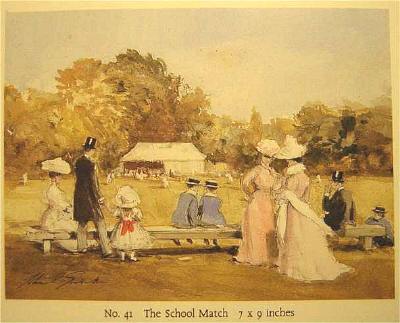 His early work was mostly in pen-and-ink and oils, with his watercolour work appearing from the early forties onwards. This has become possibly his most admired medium, and the exquisite landscapes of his travels around the world, as well as around his home in Wiltshire are much sought after.
Portraits, family groups and a Royal commission were among the large range of material he produced but his Edwardian and Victorian paintings, with so many intricate details of contemporary life, are extremely popular in galleries throughout the world. No wonder they have been reproduced in the form of postcards, greetings cards and even jigsaws. He commented on the latter in his letter to me, and obviously found it most amusing.
To a great many admirers his own wordless books are his greatest achievement of all. He began to produce these little books in the late 1960's with The Adventures of Paddy Pork and many other children's titles. He alternates the full-page pictures with half pages that can be turned over to change the story. No words are needed in these books as they are full of detail and a myriad of tales can be woven around the feast before ones eyes.
He carried on with this technique in his series of slightly larger books about English life through the ages. 'The Story of a High Street' is one of my favourites in this series, followed closely by 'The Story of a Village and 'The Story of a Country House'. The scenes in the country house kitchen, for example, can be altered to reflect the time of day by just turning the half page to one side or the other.
Another very popular series produced by Mr. Goodall in the 1970's and 1980's is small format again. Titles include 'Victorians Abroad', 'An Edwardian Summer' and ' An Edwardian Christmas' to name just three. These tiny books illustrate the life of the times in memorable and beautiful detail.
In 'An Edwardian Christmas', for example, we share the children's excitement of Christmas Eve; shopping in the bustling, snowy high street; decorating the Christmas tree; gathering holly and mistletoe for the house and then bedtime with the hanging up of the stockings.
Next day the present opening; the Christmas dinner and, of course, in the days ahead the trip to the pantomime and lots of fun and games in the snow and ice. All the Edwardian clothes are beautifully painted and the atmosphere is enchanting. No words are needed, the excitement is almost tangible and the sound of laughter and the tang of the snow is in the air.
From a very early age, it was apparent that John Strickland Goodall was destined to deviate from the family tradition of attending Harrow then embarking on a career in medicine. He was determined to be an artist and was fortunate enough to be able to train under two distinguished painters; Sir Arthur Cope and John Watson Nicol. Next he attended the Royal Academy schools and embarked on his desired career, which lasted until his death in 1996.
My life, and that of his many admirers worldwide, has been made so much richer for having been able to enjoy and share in his gift.