A Brief Portrait of a Publisher - JONATHAN CAPE - Part 1
by Charlotte Robinson of Amwell Book Company
In 1990, I produced a catalogue of books from the House of Cape to celebrate the firm's 70th birthday. Looking back I was wondering what led me to Cape in particular. In retrospect I think it must be a fascination with a man with little formal education and a very Victorian upbringing's success in a very fast changing world and his sympathy for women writers.
This is the man who kept faith with T E Lawrence, brought Hemingway to Europe and personally looked after Radcliffe Hall, E H Young and Mary Webb to name but a few.
Jonathan Cape was a Victorian by birth and upbringing. His publishing house reflected nineteenth century principles and it is therefore surprising that it was so successful in the in attracting the young authors of the inter-war period. Unlike many of his peers Jonathan had little formal education, leaving school at 13 or 14 to become an errand boy for Hatchards. He spent 15 years with Gerald Duckworth and learnt his trade there. His decision to form his own company seems to have been more the result of Gerald Duckworth finding him socially unacceptable as a potential Director than any great crusading spirit.
His first attempt to find a partner led to Geoffrey Faber, whom he discovered lacked the same ingredient - capital. A new job with The Medici Society started the train of happy meetings on which the prosperity of the House of Cape was based. It was here that Jonathan Cape found George Wren Howard and became acquainted with T E Lawrence. These three and Edward Garnett, known from Duckworth days, were the catalyst.
George Wren Howard came from a more conventional background, for a publisher, Marlborough and Cambridge. It was there that he decided on a career in publishing. It was the art of the book which attracted him most. He was some years younger than Jonathan Cape and this was reflected in the agreed ratio of a 5:7 division of financial support and responsibility in the partnership formed in 1920. Jonathan Cape also brought the assets of the small firm of Jonathan Page & Co. which he had founded the year before, and its secretary, Mrs James, who subsequently became Mrs Cape.
The fledgling firm took offices in Gower Street and Eric Dukes designed their device, later known as the Gapapot - Rupert Hart-Davies irreverently referred to it as the "coup jacques" which offended Jonathan Cape's dignity.
The next step was the acquisition of Edward Garnett as literary adviser. Garnett was happy at Cape, but he was possibly too independent-minded and impartial for Jonathan Cape who would have preferred a less remote adviser. Their relationship was based on respect rather than liking. Garnett had a considerable ability to nurture and discover talent, and many authors recognized their debt to him. A few, mostly women I suspect, were less enamoured - Carrington described him as "an old sheep on wheels".
Many of the early titles were Transatlantic imports, including a number for children, and many non literary titles, garnered from Jonathan Cape's frequent forays to America. Books came from all sources, Jonathan Cape rarely commissioned work although he endeavoured to make links with important people who might write books. His genius at this stage was to seek the right advice and use it, tempered by his own flair and nose for a good book. Jonathan Cape had faith in T.E. Lawrence with whom it must have been incredibly difficult to deal. Not until 1927 did this show tangible rewards, firstly with "Revolt In the Desert" and then Robert Graves's "Lawrence and the Arabs". Lawrence also enforced his caveat that "Revolt in the Desert" should be withdrawn when his debts were paid. The book could easily have been reprinted. The trade edition of "Seven Pillars of Wisdom" brought enormous financial rewards when it was published in 1936. The production of the book provided a memorial and a testament of how attached the partners had been to Lawrence.
Jonathan Cape also believed that fifth books were the critical measure of an author. Two notable examples of these were Mary Webb's "Precious Bane" and Radcliffe Hall's "The Well of Loneliness". Mary Webb's books had always received critical acclaim but no financial reward. "Precious Bane" performed much the same until Stanley Baldwin spoke of the book at a Royal Literary Fund dinner. Sadly Mary Webb was already dead but Jonathan's judgement was rewarded.
Johnathan Cape preferred to avoid "difficult" books but was always happy to publish controversial books on serious subjects. It had been hoped that by sending review copies of "The Well of Loneliness" only to the quality and literary press, trouble would be avoided. Unfortunately the editor of the Sunday Express wrote a leader about it. After that the fatal combination of Jonathan Cape's sincerity and the Calvinistic propensities of the then Home Secretary meant a furore was inevitable. The plates were sent to Paris and a new edition smuggled from there. A court case was lost and the book was not reprinted in England until after the war.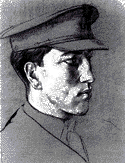 The following year saw more controversy with the publication of "Goodbye to All That" by Robert Graves, reproducing, without consent, a verse letter sent him by Sassoon in 1919. Sassoon, when shown the book by Edward Blunden, reacted strongly against the use of the material and the tone of the book. The only way Jonathan Cape was able to placate him was to agree to omit the offending passage. It is said that only 100 or so of the un-expurgated volumes escaped and, apart from a pirated reprint of 50 copies, the poem has remained suppressed. Cape was not lucky with Graves who was prolific and spread his books widely. There were problems over "But it Still Goes On", the first edition of which carries a cancel.
....to be continued in part 2 next month